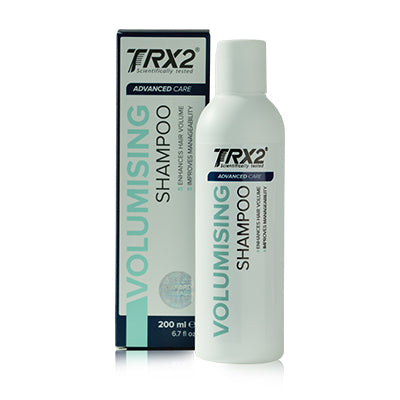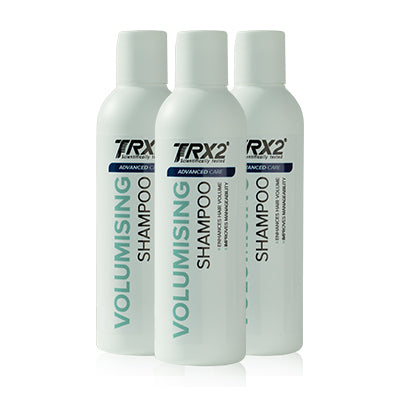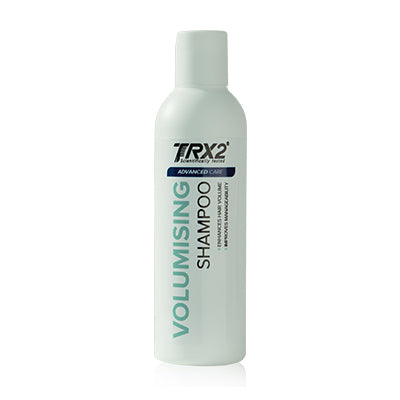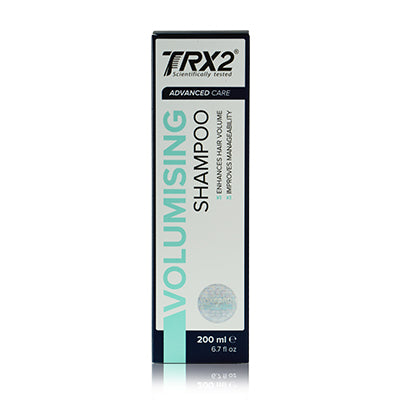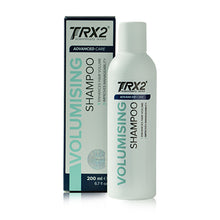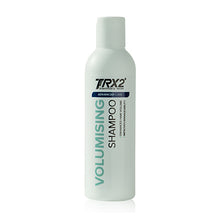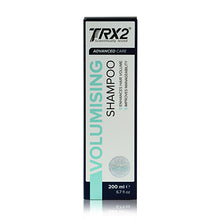 PRODUCT DESCRIPTION
TRX2® Advanced Care Volumising Shampoo combines the best of both worlds - science and nature - to give hair a voluminous, full-bodied look. Unlike most volumising shampoos, this bold blend of naturally-based ingredients enriches and infuses hair with weightless volume.
Gives weightless, instant volume

Prevents follicle damage and nourishes hair at the same time

Is suitable for all skin and hair types

Doesn't leave hair feeling stiff or frizzy

SLS/SLES-free, Silicone-free, Paraben-free

Features natural plant extracts

Dermatologically tested

Not tested on animals

Manufactured in Germany
$27.95 Regular price You save: $-27.95
TRX2® Advanced Care Volumising Shampoo is a natural mix of plant extracts with a perfect volumising effect thanks to scientific innovation and naturally-based ingredients. TRX2® Volumising shampoo is a new approach to saving thin, limp hair from frizz and dryness.
Includes:
Tricholastyl™ - a new hair-boosting complex with extract of an Indian tree and other naturally-based ingredients. Has anti-glycation (anti-ageing), anti-inflammatory, and anti-free radical properties. This trifecta means that Volumising Shampoo will help the scalp, hair, and will help delay the effects of ageing.
Hydrolysed Soy and Rice Proteins - natural volumisers that give weightless volume, reduce frizz and improve manageability.
SHIPPING COST & DETAILS 
MULTIPLE SHIPPING ADDRESSES
To ship to more than one address, please place a separate order for each shipping address.
CUSTOMER SERVICE
If you have questions about your order, you may email your inquiry to support@oxfordbiolabs.com, use our Live Chat or call us on:
UK: +44 800 808 52 51
USA: +1 702 728 3097
Canada: +1 (855) 586-3440
Germany: +49 32 211 001656
Customer Service hours: Monday - Friday 7 AM - 5 PM (BST); 8 AM - 6 PM (CET); 3 AM - 1 PM (EST); 12 AM - 10 PM (PST)
VAT, IMPORT TAXES AND CUSTOMS FEES
Our prices include VAT. Please note that customers are solely responsible for any import taxes, customs duties, sales taxes and any other levies that may be assessed in your delivery country as well as limitations or free clearance thresholds (e.g. Norway, Switzerland, Israel, Australia, New Zealand etc.)
DID BREXIT AFFECT OUR DELIVERIES?
No, our shipping mechanism remains the same where UK based deliveries are handled by our UK warehouse. Orders to the US, Canada and Mexico are handled by our US warehouse. Other orders within and outside the EU are covered by our German warehouse. 
SHIPPING RESTRICTIONS
Overseas customers are responsible for making sure that they are allowed to import our products. If customs in your country returns your order to us for any reason, we will refund to your credit card account the total of your purchase minus twice your shipping charge (because we must pay our carrier the same shipping charge to return the order to us), plus any other charges incurred, such as quarantine or warehousing fees assessed by customs in your country. For any questions please visit our Knowledge Base reach out to our Customer Service on support@oxfordbiolabs.com.
THE OXFORD BIOLABS® MONEY-BACK GUARANTEE
OXFORD BIOLABS' regular 60-day money-back guarantee is available to all international customers. If you decide to return an order for any reason, or if your order will be returned back after unsuccessful delivery, your credit card account will be fully credited for the amount of the purchase (excluding shipping cost per your shipping zone and handling fee of EUR 5.50).
RETURNS
Email support@oxfordbiolabs.com to obtain a Return Merchandise Authorization. Return the bottle(s) with the unused contents to:
 UK

Oxford Biolabs Ltd.

Pickpack Despatch

Unit 8 Wates Way

Acres Estate

Banbury

Oxfordshire OX16 3TS, UK

USA

Oxford Biolabs USA LLC

℅ Specialty Fulfillment Center Inc

224 Carnation Dr

Nampa, ID 83687

US

International (All others)

dataform dialogservices GmbH

c/o "Oxford Biolabs Ltd".

Feuchtwanger Str. 11

90574 Roßtal

Germany
How often should I use TRX2® Volumising Shampoo?

We recommend that you use TRX2®  Volumising Shampoo every time you wash your hair. For best results, use alongside other products from the TRX2® line. For more information on full product range, use this link.
Can I use TRX2® Volumising Shampoo instead of TRX2® Molecular Supplement and expect the same result?

No, TRX2® Volumising Shampoo is just a complementary product, designed to strengthen the effect of the existing active products from the TRX2® line.
Does TRX2® Volumising Shampoo have a heavy fragrance?

In TRX2® Volumising  Shampoo we don't use any synthetic fragrance, so it has a mild, natural citric smell, which comes from essential oils
What type of hair is TRX2® Volumising Shampoo intended for?

TRX2® Volumising Shampoo has been designed for all hair types, especially suitable for fine and limp hair and anyone who wants to add volume to their hair.
Can I use TRX2® Volumising Shampoo only, without TRX2® Bio-Active Conditioner?

Yes. However, to ensure the best receptive environment for the active products, it is recommended shampoo is followed by conditioner.
Does TRX2® Volumising Shampoo contain parabens?

Our entire topical product range is dermatologically tested, and free of parabens and silicones, synthetic fragrance and dyes. It does not contain harmful ingredients that can be irritating to the skin or scalp.

Can I regularly switch from TRX2 Volumising Shampoo to TRX2 Stimulating Shampoo or TRX2 Protective Shampoo?

Yes, you can have all three shampoos in rotation and apply depending on results you wish to achieve based on your hair type and style.